Wear comfortable clothing for cycling.
If you need to bring anything please put it in a knapsack as there is non basket on the bike.

Yes. Prior reservation is required.
We recommend making reservations two days in advance.
Just send us e-mail:
biketour@ab.auone-net.jp

If the weather forecast is for rain or bad weather, the tour will be canceled.
You'll receive an e-mail if the tour has been canceled by 7 am of the morning of the tour.

We ride mostly through quiet back streets and sidewalks but we also ride on the roads and some busy streets too. You need to be able to ride a bike with confidence.

We ride over a distance of approx.
20 km (12.5 miles) for half day tour or 25 km (15 miles) for full day tour including some hills, so you need decent physical strength.
(We pedal slowly and take plenty of stops along the way.)

A lunch break will be provided at "Siodome SIO-SITE".
You can choose Japanese food, Western food, Chinese food, Asian fusion cuisine from over 20 restaurants and cafes.

21 speed Street Mountain Bike.
Suitable for minimum height of 150 cm
(5 ft.) or taller.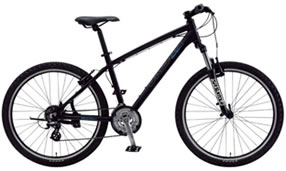 Yes, we can arrage electrick bikes according to customer's request. Additional charge is JPY1,000 for half day tour and JPY2,000 for full day tour. (Number of electrick bike is limited.)

On the sidewalk next to the Hyatt Regency Hotel Tokyo in Shinjuku.
In front of the Hotel, there is a stairway leading down to the Chuo-Dori Ave
which is opposite the Tokyo Metropolitan Government building.
Go down this stairway and wait on the sidewalk under the stairs.
If you have any trouble finding us, please call! 080-3755-7818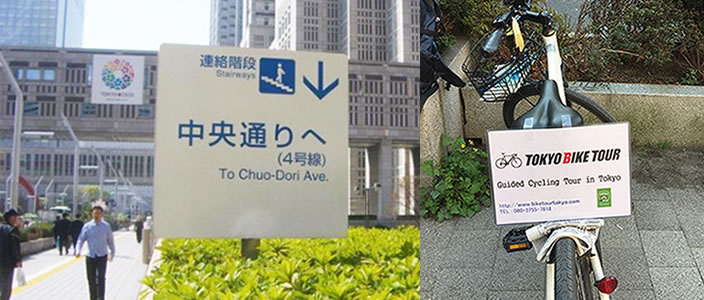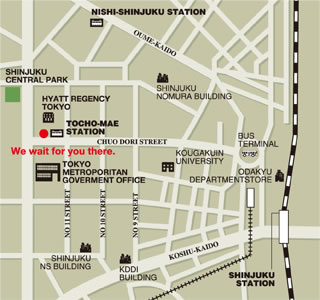 Big map
English map

copyright @ 2019 TOKYO BIKE TOUR All rights reserved.